Sometimes, you just need to suspend your disbelief and let yourself imagine that time travel does exist (breaking of the laws of physics and fucking with the timeline aside). Because when it's done good, it can be great.
So this week's recs are all a little bit more science fiction-y, and all of them feature time travel in some way, shape or form. Enjoy!


This is How You Lose the Time War
Amal el-Mohtar & Max Gladstone
Among the ashes of a dying world, an agent of the Commandant finds a letter. It reads: Burn before reading.
And thus begins an unlikely correspondence between two rival agents hellbent on securing the best possible future for their warring factions. Now, what began as a taunt, a battlefield boast, grows into something more.
Except discovery of their bond would be death for each of them. There's still a war going on, after all. And someone has to win that war. That's how war works. Right?
Comments
Okay, okay, listen, I know this isn't out just yet but. Bear with me, because this is an epistolary enemies to lovers f/f time travel romance and I know that's something you desperately need. You might not realise you do, but you really really do.


The Light Brigade
Kameron Hurley
They said the war would turn us into light. I wanted to be counted among the heroes who gave us this better world.
The Light Brigade: it's what soldiers fighting the war against Mars call the ones who come back…different. Grunts in the corporate corps get busted down into light to travel to and from interplanetary battlefronts. Everyone is changed by what the corps must do in order to break them down into light. Those who survive learn to stick to the mission brief—no matter what actually happens during combat.
Dietz, a fresh recruit in the infantry, begins to experience combat drops that don't sync up with the platoon's. And Dietz's bad drops tell a story of the war that's not at all what the corporate brass want the soldiers to think is going on.
Is Dietz really experiencing the war differently, or is it combat madness? Trying to untangle memory from mission brief and survive with sanity intact, Dietz is ready to become a hero—or maybe a villain; in war it's hard to tell the difference.
Comments
Sometimes you just want some good ol' mindfuckery and boy this will do the job for you. It's also a really well written sci-fi and, even when the time travel doesn't make sense, it does, in the way it's supposed to for the book.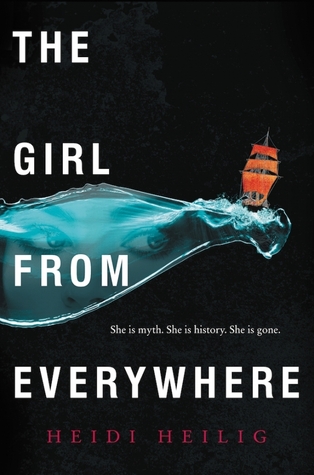 The Girl from Everywhere
Heidi Heilig
Nix has spent her entire life aboard her father's ship, sailing across the centuries, across the world, across myth and imagination.
As long as her father has a map for it, he can sail to any time, any place, real or imagined: nineteenth-century China, the land from One Thousand and One Nights, a mythic version of Africa. Along the way they have found crewmates and friends, and even a disarming thief who could come to mean much more to Nix.
But the end to it all looms closer every day.
Her father is obsessed with obtaining the one map, 1868 Honolulu, that could take him back to his lost love, Nix's mother. Even though getting it—and going there—could erase Nix's very existence.
For the first time, Nix is entering unknown waters.
She could find herself, find her family, find her own fantastical ability, her own epic love.
Or she could disappear.
Comments
I'm not gonna lie, YA books with time travel are very hit and miss for me, but this one? This one was a good one.


Alice Payne Arrives
Kate Heartfield
A disillusioned major, a highwaywoman, and a war raging across time.
It's 1788 and Alice Payne is the notorious highway robber, the Holy Ghost. Aided by her trusty automaton, Laverna, the Holy Ghost is feared by all who own a heavy purse.
It's 1889 and Major Prudence Zuniga is once again attempting to change history―to save history―but seventy attempts later she's still no closer to her goal.
It's 2016 and . . . well, the less said about 2016 the better!
But in 2020 the Farmers and the Guides are locked in battle; time is their battleground, and the world is their prize. Only something new can change the course of the war. Or someone new.
Little did they know, but they've all been waiting until Alice Payne arrives.
Comments
If you want a novella featuring a black wlw highwayman who learns that time travel exists and then forms a found family? Well, this is the book for you.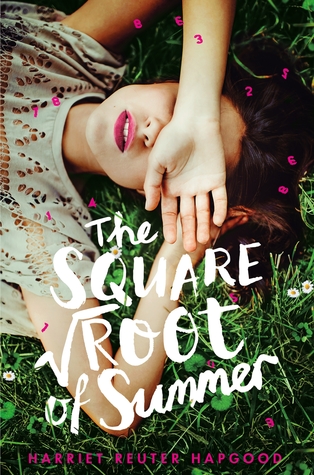 The Square Root of Summer
Harriet Reuter Hapgood
This is what it means to love someone. This is what it means to grieve someone. It's a little bit like a black hole. It's a little bit like infinity.
Gottie H. Oppenheimer is losing time. Literally. When the fabric of the universe around her seaside town begins to fray, she's hurtled through wormholes to her past:
To last summer, when her grandfather Grey died. To the afternoon she fell in love with Jason, who wouldn't even hold her hand at the funeral. To the day her best friend Thomas moved away and left her behind with a scar on her hand and a black hole in her memory.
Although Grey is still gone, Jason and Thomas are back, and Gottie's past, present, and future are about to collide—and someone's heart is about to be broken.
With time travel, quantum physics, and sweeping romance, The Square Root of Summer is an exponentially enthralling story about love, loss, and trying to figure it all out, from stunning debut YA voice, Harriet Reuter Hapgood.
Comments
I am, at heart, a huge maths/physics nerd, so the fact that this book actually took proper physics content (and time travel) and integrated it seamlessly into what's nominally a contemporary? Just about everything I could ask for.
How about you? What are your favourite time travel books?