Okay, so it's Saturday, and I failed to post this yesterday, but better late than never, right? Whatever the case, this week I want to highlight some of my favourite books with bi MCs. I've tried to go for ones where the word bisexual is used as well, because we all know how little that happens.


The Fever King
Victoria Lee
TWs: child abuse, statutory rape, suicide mentions, torture in past
In the former United States, sixteen-year-old Noam Álvaro wakes up in a hospital bed, the sole survivor of the viral magic that killed his family and made him a technopath. His ability to control technology attracts the attention of the minister of defense and thrusts him into the magical elite of the nation of Carolinia.
The son of undocumented immigrants, Noam has spent his life fighting for the rights of refugees fleeing magical outbreaks—refugees Carolinia routinely deports with vicious efficiency. Sensing a way to make change, Noam accepts the minister's offer to teach him the science behind his magic, secretly planning to use it against the government. But then he meets the minister's son—cruel, dangerous, and achingly beautiful—and the way forward becomes less clear.
Caught between his purpose and his heart, Noam must decide who he can trust and how far he's willing to go in pursuit of the greater good.
Comments
The Fever King combines the bi mc with a hate to love romance, so you know it's gonna be good. Noam and Dara will definitely fuck you up a lot – and book two isn't out til 2020. But what's best about this book (and most the ones on this list), is that the word bisexual gets used.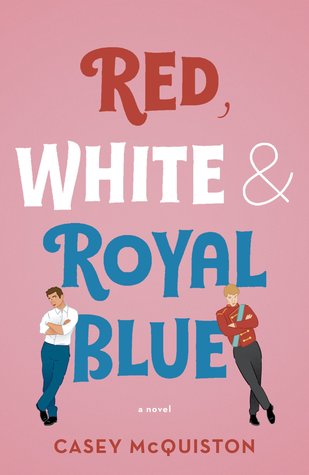 Red, White & Royal Blue
Casey McQuiston
First Son Alex Claremont-Diaz is the closest thing to a prince this side of the Atlantic. With his intrepid sister and the Veep's genius granddaughter, they're the White House Trio, a beautiful millennial marketing strategy for his mother, President Ellen Claremont. International socialite duties do have downsides—namely, when photos of a confrontation with his longtime nemesis Prince Henry at a royal wedding leak to the tabloids and threaten American/British relations.
The plan for damage control: staging a fake friendship between the First Son and the Prince. Alex is busy enough handling his mother's bloodthirsty opponents and his own political ambitions without an uptight royal slowing him down. But beneath Henry's Prince Charming veneer, there's a soft-hearted eccentric with a dry sense of humor and more than one ghost haunting him.
As President Claremont kicks off her reelection bid, Alex finds himself hurtling into a secret relationship with Henry that could derail the campaign and upend two nations. And Henry throws everything into question for Alex, an impulsive, charming guy who thought he knew everything: What is worth the sacrifice? How do you do all the good you can do? And, most importantly, how will history remember you?
Comments
Okay, I know, I keep reccing this and it's still not published but bear with me. Because it has one of my favourite bi characters in it. And also takes a different road, with Alex realising later that he's bi, rather than always having known.


Far From You
Tess Sharpe
Nine months. Two weeks. Six days.
That's how long recovering addict Sophie's been drug-free. Four months ago her best friend, Mina, died in what everyone believes was a drug deal gone wrong – a deal they think Sophie set up. Only Sophie knows the truth. She and Mina shared a secret, but there was no drug deal. Mina was deliberately murdered.
Forced into rehab for an addiction she'd already beaten, Sophie's finally out and on the trail of the killer—but can she track them down before they come for her?
Comments
I think this book was the first book I read with a bi mc (or, near enough the first). So it holds a place in my heart, even if it is pretty tragic. But Sophie is explicitly bi, and I'll never not be over the moon about things like that.


Once Ghosted, Twice Shy
Alyssa Cole
While her boss the prince was busy wooing his betrothed, Likotsi had her own love affair after swiping right on a dating app. But her romance had ended in heartbreak, and now, back in NYC again, she's determined to rediscover her joy—so of course she runs into the woman who broke her heart.
When Likotsi and Fabiola meet again on a stalled subway train months later, Fab asks for just one cup of tea. Likotsi, hoping to know why she was unceremoniously dumped, agrees. Tea and food soon leads to them exploring the city together, and their past, with Fab slowly revealing why she let Likotsi go, and both of them wondering if they can turn this second chance into a happily ever after.
Comments
Who doesn't love a good second chance romance? And Alyssa Cole does it so well, flipping back and forth between the past and the present so you get to see the characters fall in love once, and then all over again.


Beneath the Citadel
Destiny Soria
In the city of Eldra, people are ruled by ancient prophecies. For centuries, the high council has stayed in power by virtue of the prophecies of the elder seers. After the last infallible prophecy came to pass, growing unrest led to murders and an eventual rebellion that raged for more than a decade.
In the present day, Cassa, the orphaned daughter of rebels, is determined to fight back against the high council, which governs Eldra from behind the walls of the citadel. Her only allies are no-nonsense Alys, easygoing Evander, and perpetually underestimated Newt, and Cassa struggles to come to terms with the legacy of rebellion her dead parents have left her — and the fear that she may be inadequate to shoulder the burden. But by the time Cassa and her friends uncover the mystery of the final infallible prophecy, it may be too late to save the city — or themselves.
Comments
This is the only fantasy book I've read which has used the word bisexual. Which is why I have to rec it. Because, if everything else is made up, why can't you make up that they have these labels too? Fortunately for us all, Destiny Soria does just that.
What are some of your favourite books with bi MCs?