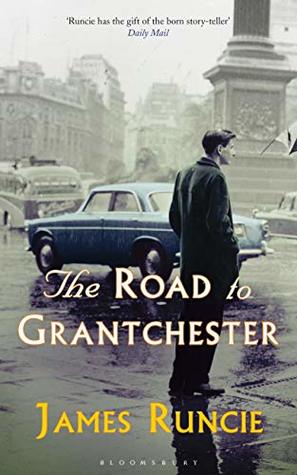 James Runcie
published: 21st March 2019
spoilers? no
The captivating prequel to the treasured Grantchester series follows the life, loves and losses of a young Sidney Chambers in post-war London
It is 1938, and eighteen-year-old Sidney Chambers is dancing the quickstep with Amanda Kendall at her brother Robert's birthday party at the Caledonia Club. No one can believe, on this golden evening, that there could ever be another war.
Returning to London from the war seven years later, Sidney has gained a Military Cross, and lost his best friend on the battlefields of Italy. The carefree youth that he and his friends were promised has been blown apart, just like the rest of the world – and Sidney, carrying a terrible, secret guilt, must decide what to do with the rest of his life. But Sidney has heard a call: constant, though quiet, and growing ever more persistent. To the incredulity of his family and the derision of his friends – the irrepressible actor Freddie, and the beautiful, spiky Amanda – Sidney must now negotiate his path to God: the course of which, much like true love, never runs smooth.
The touching, engaging and surprising origin story of the Grantchester Mysteries's beloved Archdeacon Sidney Chambers, The Road to Grantchester will delight new and old fans alike.
Galley provided by publisher
The Road to Grantchester is a prequel. So it at least aims to give some background to Sidney Chambers, before he became the vicar of Grantchester. And before he began working cases with Geordie Keating.
And that's probably why I didn't like this book as much as I might have. It's more of a character study of Sidney Chambers pre-Grantchester than anything. There's not a lot of plot, and that was a problem for me. I don't have the patience with books that don't have that much going on. That's not to say this was a bad book – it's a wholly personal issue this – but I arguably would have enjoyed it more.
But, I did mostly like the characters, so it wasn't like it was such a huge slog. I know more of Sidney from the ITV series than from the books, but it was nice to see that the characterisation was pretty similar (Sidney is still a complete dumbass when it comes to girls). I liked him, and I liked seeing his whole family. But what this book managed to do was make me dislike Amanda Kendall even more than I did watching the show (even as I was incredibly bitter by how much she got screwed over with her characterisation in that). She just felt kind of shallow and selfish, and while I could understand her motivations in some cases, often I was just irritated by her.
One thing I wanted from this book was to get some insight into Sidney's trauma (which ITV introduced in series 1 and subsequently brushed under the carpet). And I guess I got that? In a way? But at the same time I kind of wanted it to go a little more in depth than it did. It felt kind of superficial almost. You have all of what happens to Sidney in the war, then he comes back to London, and he doesn't seem particularly affected by what happened. Restless and discontent, maybe, but when you find out at the end what his real conflict is, it feels almost like it's sprung out of nowhere. And there could have been such good angst there, but I didn't really feel enough of an emotional connection to it.
A final thing: I didn't quite get why everyone thought Sidney entering the clergy was such a big deal. They were pretty much all horrified, and gave some response along the lines of either "are you sure" or "that's not like you". But is entering the clergy really a huge deal? Especially the dominant religion clergy. So, yeah, I was confused.
But, obviously, all the things I didn't really like about this book were personal ones. It is a good book. It's well-written, and it has compelling characters. Ultimately, though, I just needed something more.