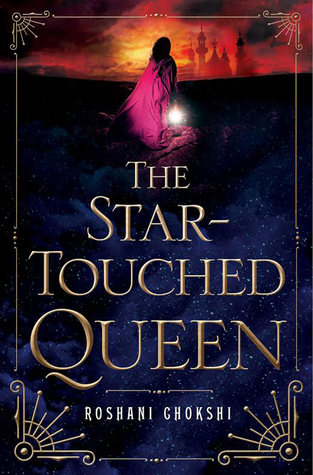 Roshani Chokshi
published: 26th April 2016
spoilers? yes
Maya is cursed. With a horoscope that promises a marriage of death and destruction, she has earned only the scorn and fear of her father's kingdom. Content to follow more scholarly pursuits, her whole world is torn apart when her father, the Raja, arranges a wedding of political convenience to quell outside rebellions. Soon Maya becomes the queen of Akaran and wife of Amar. Neither roles are what she expected: As Akaran's queen, she finds her voice and power. As Amar's wife, she finds something else entirely: Compassion. Protection. Desire…
But Akaran has its own secrets—thousands of locked doors, gardens of glass, and a tree that bears memories instead of fruit. Soon, Maya suspects her life is in danger. Yet who, besides her husband, can she trust? With the fate of the human and Otherworldly realms hanging in the balance, Maya must unravel an ancient mystery that spans reincarnated lives to save those she loves the most… including herself.
Galley provided by publisher.
What a book. I don't exactly know how to put into words how good this book is. It reminds me of both Daughter of Smoke and Bone and The Wrath and the Dawn, with such gorgeous and lyrical writing.
The Star-Touched Queen tells the story of Mayavati, a princess of the kingdom of Bharata, who is cursed with a horoscope promising a marriage of death and destruction. She is content in the belief that her future lies in scholarly pursuits, rather than marriage, when her father springs on her a union with one of countries waging war against Bharata. However, her wedding doesn't go as planned, and Mayavati instead becomes the wife of Amar, and queen of Akaran.
The first half of the book covers this, with Maya slowly coming to terms with her new role and also starting to question why Amar is keeping secrets from her. While reading it, I was leaning more towards a 4 star review because, although I really liked it, what I found was that events happened really quickly and smoothly (perhaps strangely smoothly, because despite her claims that she didn't trust Amar, she seemed to go with him to Akaran very willingly) and then there was nothing for a stretch. Once beyond the halfway mark, though, everything kicks into gear. From this point, I pretty much couldn't put the book down. Everything appears to be lost, and Maya is on her own with no idea what to do.
Perhaps my favourite aspect of the book is the setting. The mix of Indian mythology and a Persephone and Hades style tale is so unique, and really well done. The writing is amazing and brings everything to life so effectively. The characters are also wonderful – Maya is probably my favourite, but Kamala definitely comes second (I laughed out loud a few times at her interactions with Maya). The way Roshani Chokshi was able to manipulate my feelings about Amar was great too. I started off liking him, but maybe finding him a little suspicious, before going through hating him (as Maya did) and then back to liking him again.
The romance for me felt a little off, but I think that was mostly because Maya knew nothing about her life with Amar before, whereas he knew everything and was already in love with her, while she had to fall in love with him. Once Maya had her memories back, I was OK with it.
Overall, this book was amazing, and definitely lived up to the good reviews of it that I've seen. It was one of my anticipated reads for this year, and I was in no way disappointed.